Summary:
Send attachments from your OwnCloud account
Full description:
This plugin is now directly integrated in Webapp. It's called the "Files" plugin.
More information can be found here: http://www.zarafa.com/products/file-management-for-web/
Download the newest Version from here: https://download.zarafa.com/community/final/WebApp/2.0/
The OwnCloud attachment plugin is a simple integration for Zarafa WebApp. It allows you to send e-mails with attachments that come from your OwnCloud account. You can browse your Owncloud from within WebApp. These files are not downloaded to your local computer; instead, the attachments are downloaded by the server hosting WebApp, so this makes it suitable for use from public computers.
This Plugin was ported from the Dropbox attachment plugin (by Ivo Timmermans). https://community.zarafa.com/pg/blog/read/14505/webapp-the-dropbox-plugin
Changes since version 1.3:
A new context with a webdav browser.You can now browse through all files, preview, add, delete and download them. It is also possible to attach a file directly to an email. A caching mechanism for webdav requests was also introduced to improve the loadtime while browsing through folders. Information for admins: please take a look at the config.php of the plugin - there are some new options to set.

For detailed changes take a look at the changelog

Warning: version 1.3 is only compatible with WebApp >=

1.3-

38243! For older WebApp please use version 1.2.3-1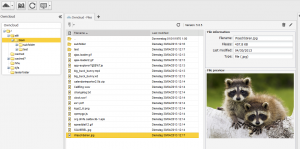 WebDav Servers tested:
Owncloud 4.5

Owncloud 5.x.x (

Owncloud <= 5.0.3 has a bug in the webdav implementation that does not update renamed files!

)

Synology Diskstation WebDAV (Path to Owncloud/Webdav: empty) Use version 1.3.1 if you have a Synology WebDAV server!

Drive on Web (Path to Owncloud/Webdav:

/probdav)
Next Milestones:
Save received attachments directly to your Owncloud account. (since v1.2)

Full featured Webdav Client as OwnCloud Webgui replacement. (since v1.3 partially implemented)
PS: This is my first Zarafa plugin and i know that it is not perfect... maybe you can help me to improve :D
If you like my plugin, then think about donating some bucks to help the development.